About Us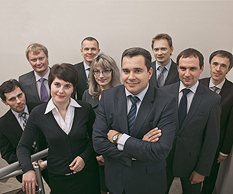 Konsom Group was founded in 1995.
Konsom Group is engaged in the development and implementation of automation solutions for steel, power, mining and other industries. Konsom Group is a major system integrator in the Urals region focusing on building and upgrading corporate information infrastructures.
At present, KonsOM SKS is a coordination centre for Konsom Group, a group with over 450 of total personnel that comprises seven companies, each specializing in its own area.
The Group's central office is in Magnitogorsk.
Our Mission
Coordinated efforts for achieving common goals!
The name KonsOM comes from the Latin 'consensus omnium' which means 'through joint effort'. Almost two decades ago, this concept and the key principle laid the basis for a new company which has evolved to become a successful team of professionals enthusiastic about tackling complex IT tasks.
Due care and attention from both Contractor and Customer is a prerequisite to success with any project or undertaking. Success and any tangible result of joint efforts can only be gained if both Contractor and Customer see each other as Partners.
This mentality helps us to see a sustainable growth in the current economic conditions, keep push our boundaries and maintain a long-term relationship with our customers.
Key Areas
Supervisory control systems:

Process automation
Data integration
Equipment monitoring
Energy monitoring
Electrical power monitoring
Raw materials quality monitoring (based on a proprietary Production Analysis System)
Stationary vibration monitoring systems
RFID based transport tracking systems
Centralized supervisory control

Information systems:

MES
ERP-level Energy Monitoring System
Energy saving systems
Motor hours monitoring systems.

IT infrastructure:

Corporate multiservice networks
Fiber optic backbone cable systems
Structured cabling systems intended for office buildings.
Industrial Ethernet, Profibus and wireless networks
Data processing centres
Infrastructure management systems.

Security systems:

Industrial TV and surveillance
Security and fire alarm
Access control
Comprehensive security solutions.
Licenses and Certificates
KonsOM SKS has been awarded the following licenses and certificates verifying the company's right to perform and certifying the quality of its services:
Certificate # '0006.03-2009-7445015325-П-054' granting the right to carry out design work (including hazardous objects) and to act as a general designer (issued by the Association of Professional Designers 'RusStroi-proekt');
Certificate # '1599.00-2013-7445015325-С-151' granting the right to carry out construction, erection and commissioning work (including hazardous objects) and to act as a general contractor (issued by the Center of Builders' Association SFERA-A);
Certificate # '3810.07-2009-7445015325-С-030' granting the right to carry out construction, erection and commissioning work (including hazardous objects) and to act as a general contractor (issued by the Self-Regulatory Organisation 'Union of Construction Companies of the Urals and Siberia');
Certificate of Compliance # 'РОСС3745.04УЛЛО / СМК.283-13' verifying compliance with GOST R ISO 9001-2011 (ISO 9001:2008) (issued by International Legal Center 'Ekspertiza');
License # '74-Б/00028' for installation, maintenance and repairs of indoors fire safety systems; date awarded: 14/03/2014;
Certificate of Attestation # '41А150269' issued by the Autonomous Non-Profit Organisation 'Prombezopasnost-Sibir' to the Heat Control Laboratory of KonsOM SKS.
Our Team
The company has 200 personnel, including one employee with a Doctor's degree, 8 employees with PhD degrees and six employees who are working on their PhD theses.
The company employs lead specialists who are certified by Siemens, Schneider Electric, WonderWare, Cisco Systems, Bernecker & Rainer Industrie-Elektronik, Oracle, Microsoft, Lucent Technologies, Avaya, CommScope Company.
Experience and Collaboration
In more than 19 years the company has implemented over 1,800 projects of various scale and complexity in such industries as steel, mining, energy, telecommunications and public governance.
The company has long-term relationships with local organisations that help to streamline the design work and other related work. The company's close partners include MAGNITOGORSKYI GIPROMEZ, a major design center in the Southern Urals region, and PROKATMONTAZH, a regional construction leader.
Our Customers
The company's major customers include some of the largest steel makers and industrial giants of Russia, including Magnitogorsk Iron and Steel Works, Ural Steel, Prokatmontazh, Kamensk Uralsk Metallurgical Works, Asha Metallurgical Plant, Gazprom neftekhim Salavat, Interkos 4, Uchalinsky GOK, Mikhailovsky GOK, Mikheevsky GOK, Uzbekugol, EuroChem and others.