Initial Inspection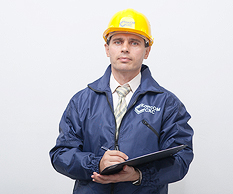 Initial inspection is the first step in the development of an automation system of any level or scale. At this stage Konsom specialists work on identifying ways and evaluating options to realise the customer's requests.
At the initial inspection stage Konsom does the following:
collects, organizes and evaluates the initial data;
conducts a general survey of the site, the processes employed and all specific features;
evaluates the technical condition of the site (networks, servers, workstations);
prepares descriptions of the existing automation systems (process control, MES, ERP);
defines the project goals and targets and the scope;
estimates the timelines and the budget;
does a feasibility study.
Upon completion of the inspection, Konsom prepares an inspection report, a proposal and a feasibility study.
Design specifications and estimates are one of the essential parts of any project. Konsom employs certified estimating professionals who use the Grand-Smeta software and work with the cost databases of Chelyabinsk Region, the Republic of Bashkortostan, Saint Petersburg Region and others.
Clients
Отзывы о решении
МАГНИТОГОРСКИЙ МЕТАЛЛУРГИЧЕСКИЙ КОМБИНАТ
Составление проектно-сметной документацией также является одним из важнейших этап реализации любого проекта. В компании работают профессиональные сметчики, имеющие квалификационные аттестаты и сертификаты государственного образца. Инженеры-сметчики нашей компании работают в программе «Гранд-смета», а также с нормативно-сметными базами регионов Челябинской области, Республики Башкортостан, Санкт-Петербургской области и др.
ЛЫСЬВЕНСКАЯ МЕТАЛЛУРГИЧЕСКАЯ КОМПАНИЯ
Составление проектно-сметной документацией также является одним из важнейших этап реализации любого проекта. В компании работают профессиональные сметчики, имеющие квалификационные аттестаты и сертификаты государственного образца. Инженеры-сметчики нашей компании работают в программе «Гранд-смета», а также с нормативно-сметными базами регионов Челябинской области, Республики Башкортостан, Санкт-Петербургской области и др.