Training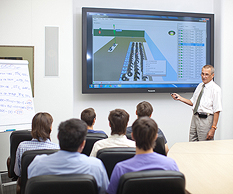 Training the personnel of enterprises, where automation systems developed by the company are implemented, is one of the most important stages of the project.
Training can be individual, on-the-job, and outside the workplace, for example, in groups.
Engineers and developers of the company that have great experience running real projects provide the training. This happens after complete system setup, division of access rights, observing all measures and rules of information security.
We get acquainted with the capabilities and functionality of new software products as part of the process; users get practical skills working with the system. Students of the courses are provided with necessary training material.
We always try to do our best to ensure that the customer's specialists are able to perform the bulk of the operation tasks and further development of new systems independently.