Programming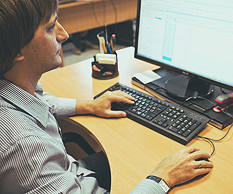 As part of automation projects, we are capable of developing programs of different levels:
PLC — controllers (Siemens, Schneider Electric, Bernecker&Rainer, ABB, Omron and others);
process automation — SCADA systems (Siemens WinCC, Schneider Vijeo Citect, WonderWare InTouch, Bernecker&Rainer and others);
integration — process data integration systems (based on PARADIGMA), equipment status monitoring and energy monitoring, material monitoring systems (based on a proprietary Production Analysis System) and others;
MES —manufacturing execution systems;
ERP — centralized supervisory control systems, RFID transport tracking systems and others.
Qualified human resources are one of the key factors for benefiting from quality software solutions. Our company employs more than 20 qualified programmers certified by Siemens, Schneider Electric, WonderWare, Cisco Systems, Bernecker & Rainer Industrie-Elektronik, Oracle, Microsoft and others.
When working on the development of new systems, we exploit all our expertise and duly respect the established corporate standards. Any development work is carried out in tight cooperation with our task statement personnel, integration experts and the customer support team.