Online excursion «Urban legends»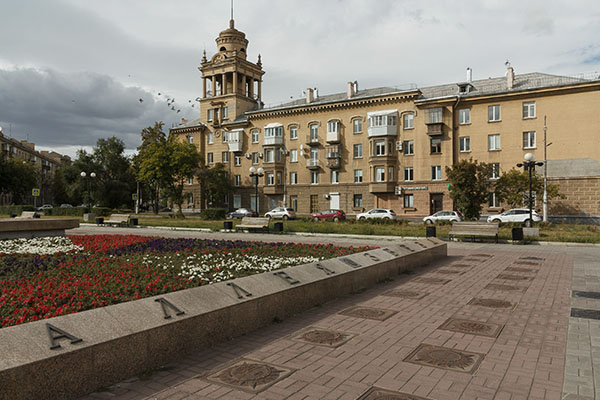 Bogatyr Atach, snake Yaik Gorynych and a giant frying pan: Magnitogorsk folk audio guide
MTS informs about the start of free tourist audio guide based on Magnitogorsk legends and stories, shared by South Ural residents in social networks. Eleven sights and places connected with significant events of the town history have been included in the special excursion route – you can get mobile audio guide on popular platforms izi.Travel and WeGoTrip.
The virtual guide from MTS represents one and a half hour free walking excursion along the historical part of the right-bank Magnitogorsk that starts from the «First Tent» monument. Then the route passes through the sights of Lenin Avenue and Oktyabrskaya Street and ends at the legendary «Rear-front» memorial.
The stories of the audio guide « Urban legends» are based are not just limited to the development of mountain Magnitnaya and the construction of Magnitogorsk Iron and Steel Works. Any resident or visitor of the town can learn a legend about bogatyr Atach, a snake Jaik Gorynych, the huge frying pan located in the city centre, Magnitogorsk first builders and many other things during the walk. These stories were sent by Magnitogorsk residents, Chelyabinsk region residents and local historians in social networks and formed the basis of the audio guide route.
The interactive guide information is located on popular tourist platforms izi.Travel and WeGoTrip. You can download the tour and it will start automatically when you get to one of the sites or you can start it when you are ready. The guide is available to subscribers of all carriers, mobile traffic when browsing is consumed as part of the tariff plan, no additional costs are required.
«Despite its production power, the Chelyabinsk Region attracts visitors from different regions and countries. As a digital company, we also strive to support the development of domestic tourism and launch online products for this. Therefore, we launched the folk audio guide «Urban Legends of Chelyabinsk» last year, which is very popular among the natives and tourists. Magnitogorsk is no less interesting industrial center with a rich history curious to know. This year we have decided to continue the «Urban legends» project in Chelyabinsk region and to create an online excursion about the legendary town of metallurgists with the help of South Ural residents. I am sure that natives and tourists will discover something new and spend fascinating 1.5 hours, walking with our audio guide around Magnitogorsk», – said Andrei Bereznoy,  MTS director in the Chelyabinsk region.
«It is important that caring citizens have taken part in unusual tourist online route creation and shared their favorite places and interesting stories of the City of labor valor. We hope that the virtual guide created by MTS together with Magnitogorsk citizens, will increase town popularity, allow to keep memories and learn more history», – said the Minister of Information Technologies, Communications and Digital Development of Chelyabinsk Region, Igor Fetisov.