Integrated Security Systems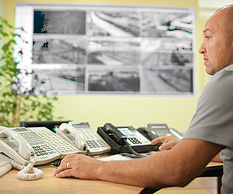 KonsOM SKS offers integrated security solutions with centralized supervisory control.
Integrated Security System provides a complete package of services ensuring protection of your property and encompasses the following subsystems:
security and fire alarm;
access control;
video surveillance.
Integrated Security System can be integrated with a public address system, as well as with a perimeter intrusion detection system. This feature can be of special interest for businesses with large fenced territories.
Some of the benefits of integrating fire safety and security systems include reduced operational costs and reduced foreseeable damage that may be caused by fires or perpetrators.
KonsOM SKS provides a full scope of services related to designing, installation, and maintenance of Integrated Security Systems, including the following:
inspection;
preparation of specifications and estimates;
supply of components and materials;
installation and commissioning;
warranty and post-warranty service.