Security and Fire Alarm Systems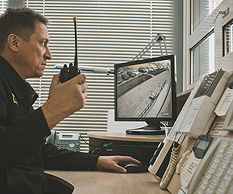 Security and Fire Alarm System is a complex combination of hardware tools designed for timely detection of fires and intrusion. Security and Fire Alarm Systems are usually integrated with security and utility systems deployed in a building and serve as a reliable source of information for alarm, fire suppression, smoke removal and access control systems and others.
Security alerts are integrated with fire alerts within a single Security and Fire Alarm System through centralized monitoring and control. At the same time security alerts and fire alerts remain stand-alone systems controlled by separate control stations.
The function of the security alarm system is to give a timely warning in case of trespassing or attempted intrusion while registering the date, the place and the time of such event.
The fire alarm system is designed for timely detection of fire and for generating control signals for alert and fire suppression systems.
Various hardware tools are used to support the key functionality of fire alert systems. They include fire detectors, control and indicating equipment, and peripherals.
Apart from the above functionality, a fire alert system is supposed to trigger fire suppression and smoke removal systems, fire alerts, and other utility systems. Today's Security and Fire Alarm Systems have in-built alert functionality.
KonsOM SKS offer to design, install, and service Security and Fire Alarm Systems while meeting all the regulatory requirements. In order to offer the Customer the best solution that would ensure a complete fire safety, ease of use and a reduced cost, we undertake to carry out an initial inspection of the Customer's site. We also make sure we satisfy all of the Customer's requests.