"Digitalization does not exclude people but improves the workflow". Interview with Evgenii Khrenov, the head of industrial cyber-physical systems and solutions department, KONSOM GROUP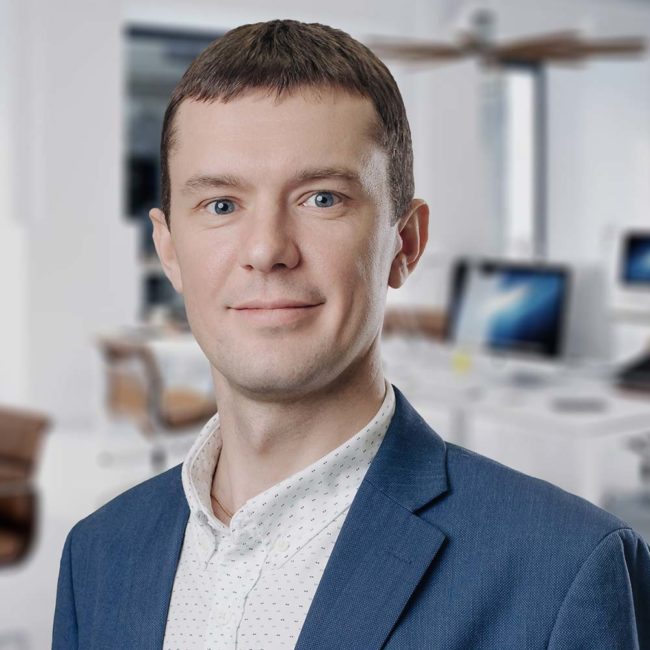 Cyber-physical systems have lived only in foreign science fiction for a long time. Evgenii Khrenov, the Head of Industrial Cyber Physical Systems and Solutions Department of KONSOM GROUP, told how close modern production is to innovative future.
– Evgeniy, why did this area formed in the company?
Initially, the company developed two parallel lines of process control systems and management control systems. The first line was responsible for classical process control systems (from physical quantity measurement to SCADA-systems), while management control systems, respectively, were engaged in integration projects, including dispatching systems and condition monitoring systems.  Due to the fact that automation is a rapidly evolving area, customer requirements also change considerably from year to year and we have to adjust to business demands. A new customer expects a comprehensive project, a system that combines the automation of individual processes as well as the automation of production as a whole (including the automation and optimization of business processes). Therefore, it was necessary to reorganize the company internally. As a result, a new department was formed «Industrial Cyber-physical Systems and Solutions». We develop, implement and maintain industrial cyber-physical systems. This is a symbiosis of solutions (complex projects) that include technical, integration and functional solutions aimed at the organization of a single information space to solve the business tasks.
– Which prospects does automation have?
It is a very interesting question. Automation does not stand still, it is developing by leaps and bounds. I started my career in the company twelve years ago, and now I realize that the difference is enormous. Both in equipment and in information systems. Therefore, I think in five years, things could change seriously again. However, the most important thing is to keep up, to be ahead. We are towards development. We are looking into the future and we are ahead of the curve. Our company is open to new ideas and opportunities. It is the advantage of KONSOM GROUP.
– What steps do you take to be ahead?
Firstly, it is about continuous monitoring of the market and solutions. We participate in conferences of major vendors, because they are the ones who set the tone. By taking part in these events, you can catch new development prospects, find out what the giant vendors are aiming for and work in the same direction.
Secondly, KONSOM GROUP is not standing still, constantly developing, training its staff, using modern approaches and system designing tools.
In conjunction with extensive experience in serious, long lasting and important projects, the company is able to solve complicated automation tasks.
– What do you enjoy the most in your work?
It is very interesting and multifarious. There is no repetition and cyclicality in our work process. We are developing new requirements for each system and solve new tasks that have not yet been solved. The solution search and the result is what gives the greatest pleasure. It is amazing to know that we have found a solution that benefits the customer, his business.
Every designer is a creative person. Whether he develops project documentation or writes software. Circuit design (principle or functional) takes a lot of effort. It is necessary to select equipment that will meet all the customer's requirements, both technically and in terms of IT. From the represented nomenclature, it is important to choose the equipment that will fit the company's infrastructure, so staff could be trained to work with it, and it will not cause any servicing problems. There can be several options, and the developer decides which one will be used. Here creativity and responsible decisions starts. It just can't help but be enjoyable.
– Speaking of digitalization, what is it for you? Is it the future?
Digitalization has been actively launched since the computer invention and has had various names at different stages. Even now, discussing this question with customers we get different definitions. Everyone means something different, but the general idea is that digitalization is still the same automation on of data collection, processing, storage, presentation and analysis, the formation of master data management.
For some, digitalization is the creation of modern central control systems. For others, it means digital twins (mathematical models) of technological processes, which help to make decisions in complex and uncertain situations.  Everyone puts something different into this term. It is simply a new direction of automation, business processes improvement, that enterprises are striving for. By automation of data collection, processing, transmission, data storage and management, you have the opportunity to conduct analytics, it makes the business «transparent» to manage. It becomes easy to find vulnerabilities in production and take some measures to improve its efficiency.
– Can exclusion of a person be the disadvantage of the digitalization?     
I do not think there are any disadvantages, because a person is not really excluded. Rather, we need to improve our skills and evolve with these systems. Whereas previously an employee would enter all the data into Excel by hands and then take that file somewhere and so on, now they will only have to maintain the system, which does it for them. In my opinion, the system will become extinct without proper maintenance. Therefore, employee's skills just have to change. However, systems will by no means replace a person.
– What is the mission of digitalization within a company?
The mission is to improve production process through coordinated efforts for achieving partners' business goals. We ensure transparency, integrity and smooth production flow in order to improve customers' service, which influence efficiency, quality and productivity.