Corporate Multi-Service Networks, Creation of Corporate Multi-Service Networks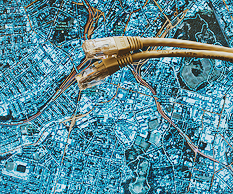 As businesses grow and depending on the business area any organization at a certain point might feel the need for a single corporate network which would integrate all the organization's offices while enabling fast data exchange, reliable Internet access and telephone communication and other corporate communication services. KonsOM SKS provides solutions and equipment for creating Corporate Multi-Service Networks for your organization.
Why does your business need a Corporate Multi-Service Network?
To accommodate to ever increasing information flows
Increased external communications entail higher provider bills.
If you need to integrate the company offices located in Moscow and other cities in Russia and abroad into a single information network.
Dedicated external communication channels will ensure an online connection to the corporate information system from anywhere in the world. Besides, the company's remote offices can be integrated into a single telephone communication network.
To be able to reach offices in Moscow or overseas using direct phone numbers
By implementing this functionality you can cut your telephone costs and enhance performance.
When you need to create remote virtual offices in other cities or countries
With the help of dedicated external communication channels it is possible to create the so-called virtual offices which do not require any physical personnel. All incoming communication (by telephone, fax or email) is automatically redirected to the appropriate offices, which can be located in a different place. Having their legal addresses, official phone numbers and bank details in the country of registration, virtual offices are managed by the head office or any other office of the company.
Basic Functionality and Capabilities
Data Transmission:

All company offices (including remote offices) integrated in a single corporate network.
Video conferences handled from any location.

Telephone Communication:

The pool of the company telephone numbers can be extended to cover remote offices (including offices located overseas) and company partners.
The pool of the telephone numbers for other locations and countries can be extended to cover the company and its partners.

Credit and Banking Systems:

Services can be paid for using the company cards.
Services can be acquired by VISA Electron card holders.

Services Rendered to Other Companies:

Communication channels available to providers, mobile network operators, banks and other organizations.
Benefits
Opportunity to change providers depending on the circumstances. The user can be flexible to use different ways to access the global information network benefitting from reduced data exchange costs.
No fees for the use of communication channels or for data transmission within the organization.
High-quality and high-capacity data transmission. The use of optical infrastructure ensures a complete noise immunity, as well as high quality and speed which can only be affected by the limitations of the active equipment installed.
Extended life. Optical cables have a longer service life (up to decades) and a great safety factor in terms of capacity.
High robustness. Such network is times more robust than its counterparts.
Cost reduction. By leasing communication channels one can reduce operational costs.