Structured Cabling Systems for Office Buildings, Designing and Building Structured Cabling Systems for Enterprises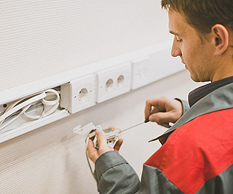 Structured Cabling Systems form the basis for the IT infrastructure of an enterprise which integrates multiple information services, including LANs and telephony, security systems, surveillance systems, etc.
A structured cabling system (or SCS) is a cabling system deployed within a building or a group of buildings, which has its own hierarchy comprising elements which are integrated in a single system and operated following certain rules.
Such elements include copper and fiber optic cables, patch panels, patch cords, cable connectors, modular jacks, outlets and other auxiliary equipment.
Benefits
Hierarchical ring topology.
Modular design.
Flexibility and ease of use.
Minimized operational costs.
Design of a Structured Cabling System
Cabling systems have hierarchical structures encompassing the following subsystems:
Workspace subsystem designed to connect LAN users;
Horizontal subsystem enabling the workstations to connect to the switching devices located in the network center;
Administration subsystem comprising the switching devices of the network center.
As Structured Cabling Systems are regulated by ISO (ISO/IEC 11801), it is recommended to evaluate the competences and the experience of the potential contractor before entrusting him to build your SCS. KonsOM SKS guarantees a quality service that meets all the applicable quality standards.