Backbone Communication Networks, Creation of Fiber Optic Backbone Communication Networks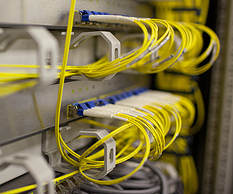 Backbone cabling systems primarily include fiber optic communication lines which run between main switching nodes built with high-bandwidth devices.
The nodes are responsible for switching between the backbone lines while forming trunk channels used for distribution of telecommunication services (voice, data or image transmission applications, etc.).
KonsOM SKS has a vast experience of designing backbone cabling systems, which connect plants/shops, buildings or divisions of a company and transmit all kind of signals generated by multi-service information networks within production control, process control, or telephony systems.
Backbone Communication Networks can be built with the following:
single-mode fiber optic cables;
multi-mode fiber optic cables;
copper multi-pair cables.
Backbone lines built with single-mode fiber optic cables are used in backbone multi-service information networks with the distances between the nodes being up to 100 km.
Backbone lines built with multi-mode fiber optic cables are designed for communication lines with the line length of up to 2 km for each transmitter, the FastEthernet and GigabitEthernet line length of up to 550 m, and with the transmission rate of up to 100 Mbit/sec.
Such lines are used for connection of the corporate system's terminal objects, which shall not be used as intermediate systems once the network has expanded.
Fiber optic backbone networks are used for wide area networks for the following connection purposes:
telephone network users;
separate workstations to the corporate information system nodes;
small LANs based on the xDSL technologies;
sensors, meters and other devices to data acquisition nodes for the purpose of energy monitoring, fire safety, access control systems and others.