Summer results and autumn plans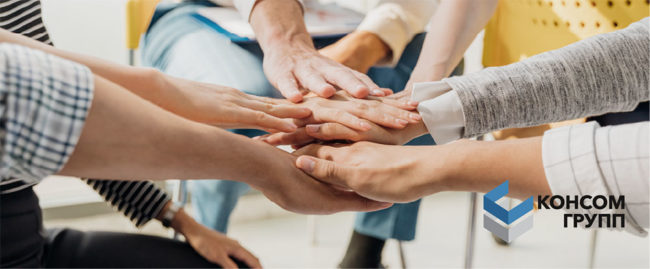 Autumn leaves are falling down, tanned colleagues are coming back from vacation, Mikhail Shufutinsky is going to turn over the calendar, so it's time to sum up the summer results.
Our company definitely had a rewarding season. Due to 2020 work experience we can handle all the demanding conditions, get priorities straight, believe that the best is yet to come and achieve common goals whatever. More facts? Let's go!
1. Current projects development
We have already told about the revamping of the continuous casting unit No.1 at PJSC Severstal. The KONSOM GROUP team has successfully completed another project stage. The continuous steel casting unit kept running on August 6 at 07:07 a.m. We would like to thank everyone who took part in the revamping! The next step is to reconstruct the continuous casting unit No.3.
One more important task of this summer is preventing the Customer's staff from being in a danger zone. Staff safety is always a priority. If a person enters the danger zone when the machine is moving, he gets a vibration signal on the individual RFID tag, the alarm activates, and then the mechanism blocks. As a result, machinery is now equipped with special tracking sensors. Staff gets RFID tags. This system is expected to be implemented in several customer's shops.
2. Launching a webinar series.
Together with our partners Siemens DI SW we have launched a free webinar series with the leading specialists of Siemens DI SW and partners. You can learn how to minimize risks when planning and implementing investment projects, how to assess the effect of ongoing activities under running production, how to automate the process of industrial facilities management, how to provide decision support and even more. You can subscribe here.
3. Increasing cloud development by 1.5 times.
KONSOM GROUP uses CloudMTS to develop IT solutions for the leading industrial enterprises automation. The use of the cloud allows the integrator to optimize the development team's interaction both within the offices and telecommuting. More information about cloud project expansion for the leading Russian industrial system integrator – KONSOM GROUP – can be found here. We presented an interview to our colleagues from MTS in August and keep moving forward.
4. Trend following 
KONSOM GROUP specialists' visited the international industrial trade fair INNOPROM in July 2021. INNOPROM is the main industrial, commercial and export platform in Russia. We are pleased to take part in such a large-scale event, share our experience and knowledge, as well as get new contacts for future cooperation.
The pilot project in which our company has acted as a system integrator, was awarded in the international industrial trade fair INNOPROM 2021.
5. Website updating
It is very important to improve website's customer service, so we strive to achieve high quality. You can find new service pages:
Digital warehouse (ссылка на англ. страницу)
Digital waybill (ссылка на англ. страницу)
Cooling system monitoring (ссылка на англ. страницу)
We are also coming up with a consistent style, updating the press center and adding up-to-date information.  
Let's move on!
We are glad to provide complex automation systems' consulting since the mission of our company is to optimize production operations to help our business partners reach their goals. We are to find an optimal and up-to-date solution, which can be adapted in accordance with technological and business development.
KONSOM GROUP is always open to any suggestions; We are glad to answer your questions by phone +7 (3519) 27-23-88 or at info@konsom.ru.